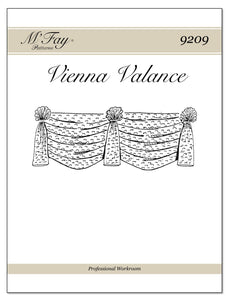 (9209) Vienna Valance
M'Fay Patterns SHIP FREE!
An updated look for the casual Austrian Valance. The swag sections (and returns) may be pleated, or use a shirr tape for gathers. Three alternative tail pieces; one of which protrudes slightly above the top of the board. The bottom of this tail section has a completed circle horn effect at the bottom while the top curve area fans out from side to side. Fit any width and depth window.
M'Fay Patterns are intended for experienced sewists; instructions assume a basic understanding of professional window treatment construction techniques.
For information on where to receive pattern support, please refer to our M'Fay Pattern Support page.
Instructions available in English only